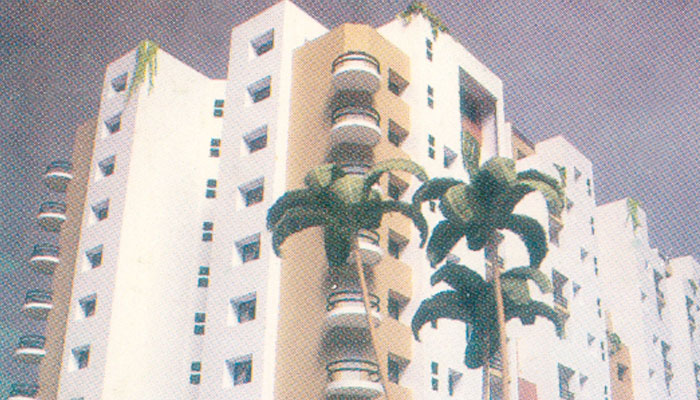 Nisarg
The Project:
135 flats, 4 buildings , 9 storey's each.
The location:
Off old padre road, adjoining vaccine institute.
As the name suggests, is in the cradle of openness literally. This housing complex boats of 25,00,000 sq.ft. of open land in front of It and 25,000 sq. ft of landscaped garden behind it. To appreciate this oneness with nature every possible room is planned with a terrace.
This Project is underway right now and should be ready for possession shortly as per schedule.
Wall to wall Marble flooring in all flats and pent houses for wall to wall glamour
Main doors of flats & pent Houses are specially designed which will have a call bell, magic eye, Mortice or Godrej Latch, with brass aldrom and name plate
All other doors will be flush doors with standard brass acceeories
Heavy sectioned aluminium sliding windows ( fully glazed) for durability that is beautiful to behold.
Granite kitchen platform of 16sq.fts which includes stainless steel sink.
Kitchen platform dado of 4.00 height
A bath tub will be provided in flats and pent houses with over 1400 sq.ft area.
All electrical points of concealed copper wiring with standard accessories.
Provision of 15A power point in kitchen and bathroom.
Concealed plumbing work with standard C.P. fittings.
Colourful glazed tiles in bathroom and W.C. upto door ht.
Marble seal at main entrance door and marble seal patch on windows.
An intercom system connected with all flats and pent houses and a security cell to screen visitors for better security.
A common dish antenna for the best in global entertainment.
Children's playground with outdoor equipments.
A spacious and well designed club house equipped with indoor play equipment.
Finishing:

Internal: White washed internal walls for a bright and pristine environment.
External: External surface finished with better quality cement paint.